Zone Categories organise multiple zones and assign rules to various zones at once.
From the Dashboard, select Zones Management on the left-side menu to navigate to the Zones Management page.
To create a new Zone Category or edit existing Zone Categories, select 'Manage Zone Categories' and either select an existing category or press the '+' icon to create a new one.
Enter a Category Name and select a Zone Type and Colour. The category name is used to group and filter zones associated with the Zone Category. The colour is used to visually highlight Zones on the map that are grouped under the Zone Category.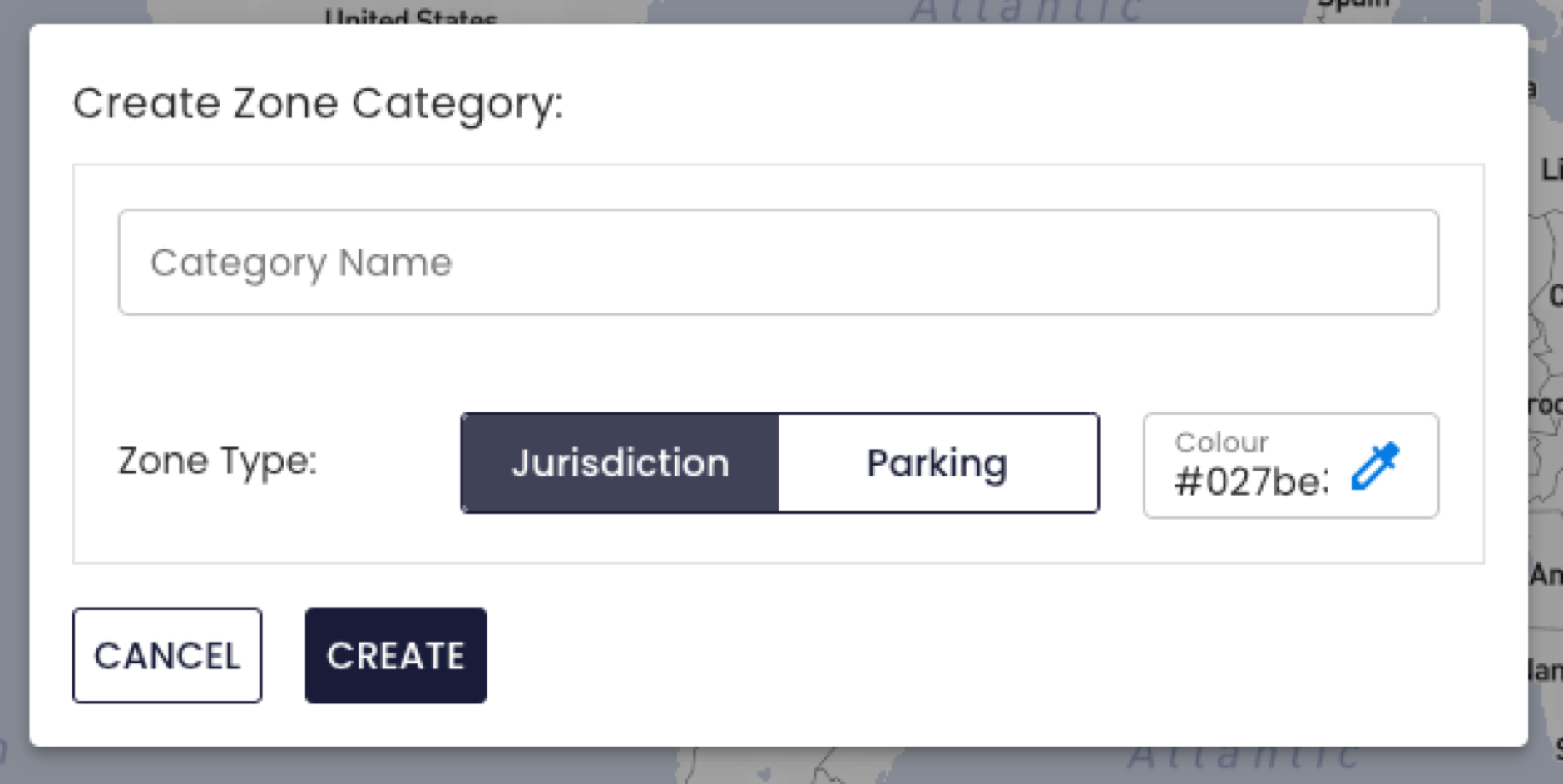 Select a 'Jurisdiction' Zone Type if you only want to use Zones in this Zone Category to find & filter plate reads – not to provide Zone Utilisation data, or generate Zone Violation alerts. For example, you can create a Jurisdiction category to group several zones which represent separate areas on a map. Then, you can filter by these Zones on the Plate Search page to only return vehicle data found in those zones.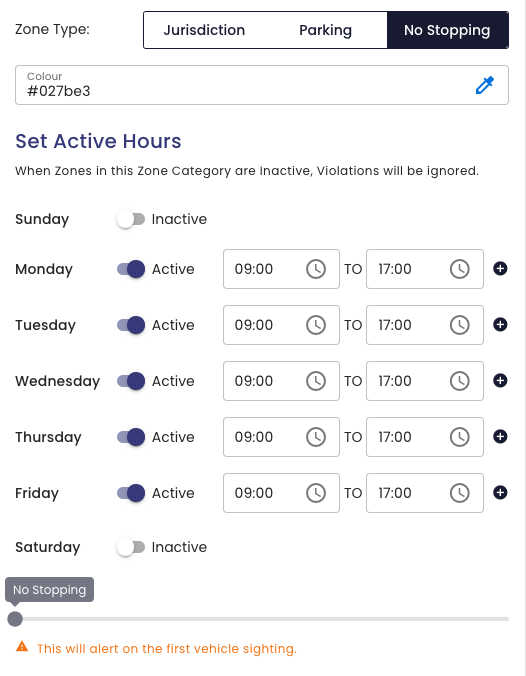 Select a 'No Stopping' Zone Type if you want to receive a No Stopping violation alert the first time a vehicle is sighted in a Zone with this Zone Category, but not provide Zone Utilisation data. This Zone Category is useful to create clearways, No Standing zones and other No Stopping zones where no one is ever allowed to park.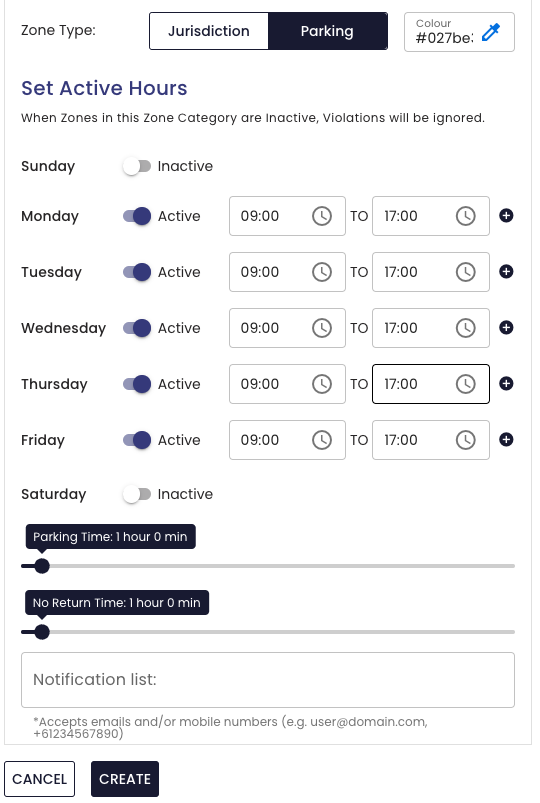 Select a 'Parking' Zone Type to access a set of time-based rules, allowing you to perform digital chalking and enforce parking area restrictions.
Set the Active Hours to represent the local time in which parking is enforced in each Zone within this Zone Category. For example, you could create a '1H Parking Weekdays' category which has Active Hours from 9am-5pm on weekdays but is 'Closed' on weekends (when parking is free).
To create multiple Active Hour periods for the same day (for example to create School Zones rules where parking violations are only enforced in the morning and afternoon), click the '+' symbol to the right of the Active Hour input area for each day.





You can set multiple active periods per day to create more complex rules.

When Zones that are created and set to this Zone Category are 'Inactive', Violations in those Zones will be ignored.
Set the Parking Time slider to represent the maximum time a vehicle is allowed to park without moving – for example, 1 hour. If a car is detected in a Zone with this Zone Category assigned, and then detected again 1 hour 10mins later, you will receive an alert that the vehicle has overstayed by 10 minutes and the vehicle will be flagged as an Overstay violation under the Parking Violations filter on the Plate Search page.
Set the No Return Time to the length of time after which an individual car is allowed to return to the same parking area (i.e. the grace period).
Please note, it is recommended to complete two passes/surveys in less than the No Return Time in order to detect any overstays. For example, setting a No Return Time of 2 hours means after performing your first survey/pass you need to complete a second pass/survey before the 2 hours is up to detect any potential overstays.
If you wish flag all potential overstays and manually review whether the vehicle returned in the allowable No Return Time, set the No Return Time slider all the way to the left.

In the Notification List bar, enter the email addresses (separated by a comma) and/or mobile numbers that you would like to receive email and/or SMS alerts when an Overstay violation is detected in any of the zones associated with this Zone Category.